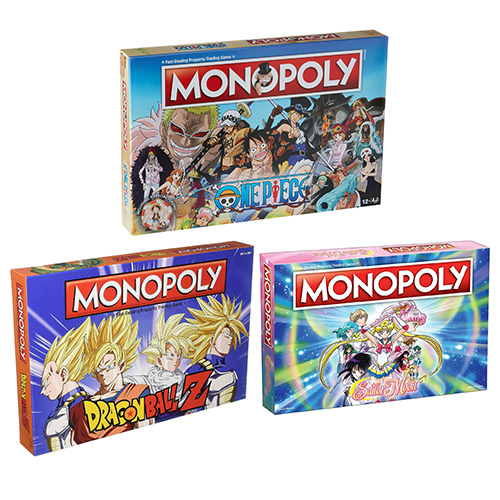 Monopoly (Board Game)
---
* Free shipping delivery to East Malaysia
* Usually ships within 1-3 business days
Monopoly One Piece, Dragon Ball Z and Sailor Moon Board Game | Based on the Popular Anime TV Show | Custom Tokens, Money and Game Board | Officially Licensed Merchandise
ONE PIECE
Welcome in Dressrosa! The Straw Hat Crew sneak into Dressrosa and divide into three teams; destroying artificial Devil Fruit factory team, escorting Caeser team and securing Thousand Sunny team. In this special One Piece edition of MONOPOLY, you'll visit all the characters of the anime One Piece as well as trying to get Koala and Soldier over to your side! Chest and Flag cards might reward you for fights against the villains or bring an unexpected surprise... Buy, sell and trade with other fans to get a powerful One Piece team and win the game!
DRAGON BALL Z
Raise your power level! in this Episode of Dragon ball Z, we find the Z fighters in an epic battle of dice rolling and real estate! recruit legendary warriors like Goku, Vegeta and Gohan to help in this adventure of Monopoly: Dragon ball Z! take a chance to be the richest fighter in the world as you encounter the red ribbon army and the capsule Corp. Friends like Bulma and master Roshi can help you along the way on your path to greatness! can you collect all the deeds and be the greatest?
SAILOR MOON
The series that brought anime to American mainstream meets MONOPOLY! Be the fighter to depend on and choose from six rosé-finished tokens, including a Moon Chalice, Deep Aqua Mirror, or Cosmic Heart Compact, to encounter the characters you know and love across a custom game board. Love and Friendship cards will affect your fate as you buy, sell, and trade towards a Pretty Guardian's support for the win! "Buying houses by moonlight, winning games by daylight" is destined to become your motto once you own a piece of the magic with MONOPOLY: Sailor Moon!